Why Pine Pollen Cell Wall Need to be Cracked?
Pine Pollen is surrounded by hard sporoderm/cell/shell which likes an armour to protect the nutrition inside the cell wall. The cell wall of pine pollen can stay the same when soaked in caustic soda or in boiling water, as well as strong radioresistance character. A study conducted by a Japanese scholar on pine pollen by increasing the radiological dose on Pine Pollen and found that the cytoplasm dead volume is 77.4-129 C/KG while the human radiation lethal dose is only 0.15 C/KG; which can show that pine pollen cell wall has extraordinary strong stability and radioresistance character. Digestive juice of human or any monogastric animal can not break the Pine Pollen cell wall. Therefore, for better consumption of nutrition inside the cell wall, physical breaking of pine pollen cell wall is necessary.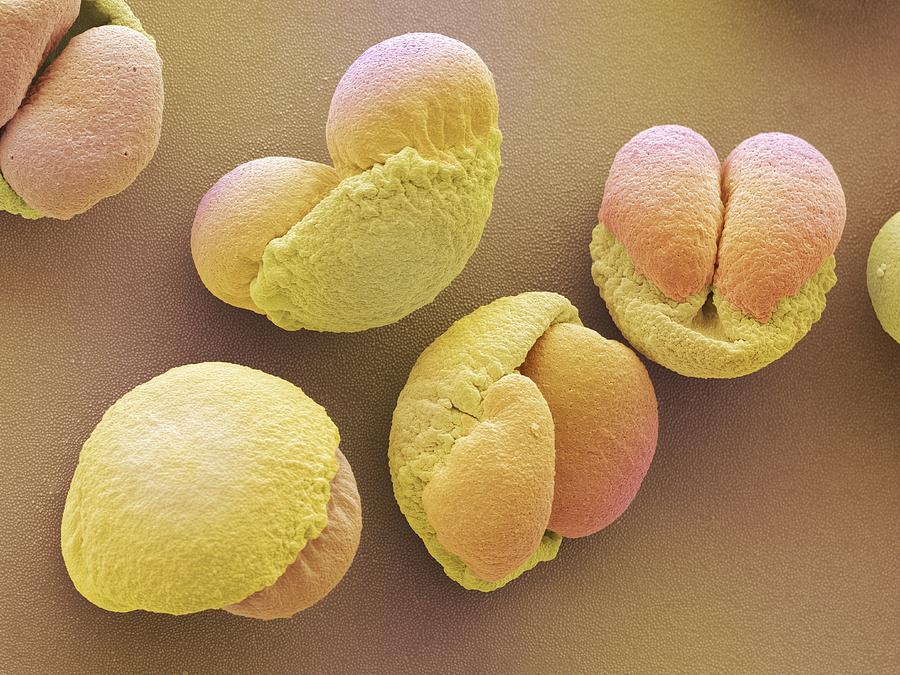 Cell-broken process can help pine pollen nutrition absoption
Pollen grains are wrapped in the solid shell, which protects the nutrients and hereditary substance in it as an "armor". The pollen wall has a great capacity of not only with standing being soaked in caustic soda and boiled in water but also resisting radioactivity. Experiments made by Japanese scholars by increasing the radioactive dose shows that the lethal dose of radiation on human beings is 0.15 coulomb/kilogram whereas a dose of 77.4-129 coulomb/kilogram on pollen cells demonstrates the marvelous solidity and anti-radioactivity properties of the pollen shell.
It is originated in Japan that the digestive juice of human beings and monogastric animal can not break down the sporoderm/cell/shell of the pollen, thus the sporoderm/cell/shell has to be removed before all the nutrients in pollen can be absorbed. However, European and American countries that have popularized pollen products hold that the pollen with a sporoderm/cell/shell or without a sporoderm/cell/shell can both be absorbed by the body. For many years, no agreement has been reached on this issue whether it is necessary or not to break the pollen sporoderm/cell/shell. This argument has captured the great attention of nutritionists. Many studies have been carried out on the cell-cracking of pollen by experts at home and abroad as a scientific research subject.
The study on the microforms and nutrients has been made by the Trace Element Research Laboratory of the General Hospital of the PLA with an analytic comparison on the nutrients of natural pollen and cell cracked pollen and a discussion has been provided on the effect of the cell cracking on the pollen structure and nutrients after an observation on the changes of the microforms before and after the sporoderm/cell/shell is cracked with the scanning electron microscope.
Pine pollen is a kind of faint yellow powder with a light texture easy to flow and a soft feel of lubricity. The fluid property of pine pollen can be perceived when a bottle with it is being shaken but the fluid properties are lost when its sporoderm/cell/shell is cracked with the high speed airflow pulverization method causing the change on its physical properties, unable to flow due to the tremendous adhesiveness of the cell cracked pine pollen.
The vesicae shed and separate themselves from the pollen grains under the mechanical force while they are crashing with one another under the force of the high speed airflow during the cell cracked process. The main bodies of the cell cracked pollen grains are relatively enriched due to the fact that the vesicae are easy to be carried by the high speed airflow for its special physical structure and get lost with the force of the airflow.
Nutrition Change After Breaking the Cell Wall of Pine Pollen
With regard to whether cell wall of pine pollen need to be broken, some people believe the nutrition inside pine pollen cell wall could be released through germinal aperture. Before we make any judgement on this opinion, let's focus on the structure of pine pollen first. It's known that to preserve their own biological activities under different environments so as to reproduce when conditions are right; pine pollen are protected under a hard cell wall which is insensitive to many chemical reagents. This cell wall couldn't be destroyed even when soaked and boiled in caustic soda, meanwhile it has been proven with strong radiation resistance. Japan is only nation that gone through nuclear strike in the world, which result in they pay special attention to radiation resistance researches. Japanese scholars once experimented on large dose of radiation and found the lethal dosage of radiation for human is only 1C(Coulomb)/KG while lethal dosage of pollen cell is 77.4-1291C(Coulomb)/KG. This experiment showed that cell wall of pollen is exceptionally hard and has strong radiation resistance.
The results of many past experiments showed that the precipitation rate of pine pollen nutrition is no more than 20% in neutral solution and pollen will produce a kind of protective response to stress so as to release much less nutrition through germinal aperture under the condition of acid and alkali. We also understand the acidity of gastric acid is so high that even bones or other hard stuff we eat could be completely digested; however gastric acid couldn't dissolve the hard cell wall of pine pollen, pine pollen being excreted as how they be taken. Experiments so far show that digestive juice of human and monogastric animal can't destroy cell wall of pollen. Therefore there are lots of domestic and overseas researches has be done on how to take pine pollen and to take most of nutrition contained in pine pollen.
Trace Element Research Lab of Clinical Medicine Research Institute of China PLA General Hospital has researched on the form and nutrition change of pine pollen before and after breaking the cell wall. They adopt High-speed Airflow Smashing technology at low temperature to break the pine pollen cell wall which could prevent exogenous pollution and guarantee nutrition won't be damaged during cell wall breaking process. By observing the
pine pollen form under the microscope and comparing the nutrition change between raw pine pollen and cell wall cracked pine pollen, they researched the impact of cell wall breaking process on pine pollen structure and nutrition change.
Raw pine pollen is light yellow in color, entwisted with sense of lubrication, easy to lift up in the air with a light weight. When raw pollen is shaken in a sealed transparent container, we could find pine pollen has fluid characteristic. However the appearance and some physical properties changed after breaking the cell way by high-speed airflow smashing. Airbag structures have been smashed and separated from pine pollen grain main structure and main structure of pine pollen grain is relatively enriched. After breaking the cell wall, superficial area of pine pollen increased and lost its fluid characteristic, with a strong adhesivity which is hard to lift up instead.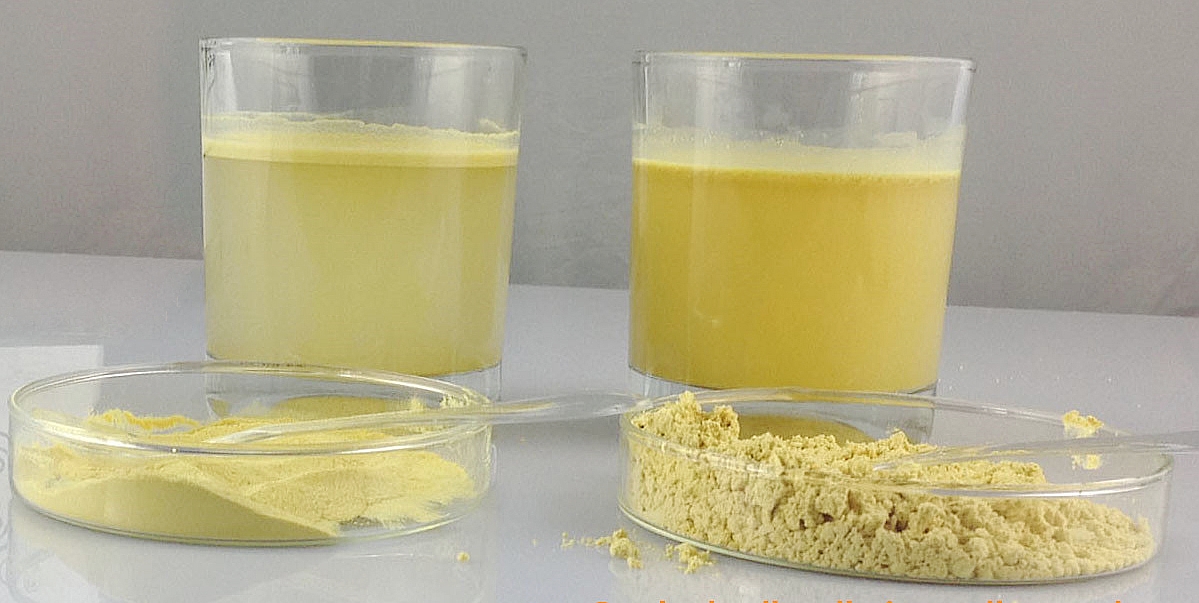 During cell wall breaking process, pine pollen grain crash each other and then the airbag structures are separated from main structure under strong mechanical action. Due to unique physical structure, airbags are easily carried and damaged by high-speed airflow which result in pollen grain main structure are relatively enriched. It shows almost no difference in content of dry substance before and after breaking the pine pollen cell wall, 94.7% and 94.1% respectively, which could make a conclusion that moisture content change is small after breaking the cell wall. Other changes could be found in below chart as hemicellulose content decreasing dramatically from 12.8% to 1.5%, cellulose content from 14.4% to 9.9%, xylogen from 29.6% to 25.9%, coarse fiber from 35.6% to 27.3% and sugar from 12.3% to 18.7%. From above figures we could get the conclusion that pollen grain airbags are mainly composed by hemicellulose, cellulose, xylogen and so on.
| | | |
| --- | --- | --- |
| Item | Raw Pine pollen | Cell cracked pine pollen |
| dry substance | 94.70% | 94.10% |
| coarse protein | 12.70% | 13.10% |
| ether extract | 1.50% | 10.50% |
| total lipids | 7.30% | 10% |
| starch | 5.40% | 7% |
| Sugar | 12.30% | 10% |
| Soluble carbohydrate | 14.80% | 30.20% |
| hemicellulose | 12.80% | 1.50% |
| cellulose | 14.40% | 9.90% |
| xylogen | 29.60% | 25.90% |
| coarse fiber | 35.60% | 27.30% |
| Ash | 3.10% | 3.50% |
| total zinc content | 36.6μg/g | 37μg/g |
| soluble zinc content | 0.16μg/g | 0.26μg/g |
| total energy | 21KJ/g | 22.1KJ/g |
Soluble carbohydrate increasing from 14.8% to 30.2% after breaking the cell wall which double the content before; the content of ether extract going through a sharp jump from 1.5% to 10.5% which is 7 times higher than before, soluble zinc content also rising greatly from 0.16microgramme/gram to 0.26microgramme/g.
Below figures show the nutrition changes of pine pollen before and after breaking the cell wall, coarse protein content increasing from 12.7% to 13.1%, content of starch and total lipids increasing by around 30%, starch content from 5.4% to 7.0%, total lipids from 7.3% to 10.0%, total energy increasing by around 5%, ash increasing by 0.4%. These figures indicated that the main structures of pollen grain were relatively enriched.
Type of amino acids
Raw pine pollen
Cell cracked pine pollen
Total amino acids(nmol/mg)
Free amino acids(nmol/mg)
Total amino acids(nmol/mg)
Free amino acids(nmol/mg)
aspartic acid
65.4
1.9
68.1
2.8
threonine
36.1
1.2
37.7
2.4
serine
43.5
2.4
46.8
4.2
glutamic acid
76.4
3.6
81
5.5
proline
35.5
28.8
39.4
29.5
glycine
67.5
2.5
68.8
2.2
alanine
64.9
8.7
67.3
9
cystine
5.4
0.2
5
0.2
valine
48.2
1.2
50
1.6
methionine
1
0.1
10.2
/
isoleucine
35.8
0.7
36.8
1
leucine
57.2
0.7
59.3
0.9
tyrosine
15.4
2.2
16.9
2.9
phenylalanine
27.1
1
27.8
1.3
histidine
16.9
12.9
19.6
13.7
lysine
50.4
0.6
53.3
1.5
arginine
36.7
9.3
35.9
11.8
Also we could see total amino acids content in cell wall cracked pine pollen are higher than raw pine pollen except cysteine, arginine and methionine, free amino acids content are also higher in cell cracked pine pollen except cysteine, glycine and methionine. Markedly increase of dissolving-out amount of water-soluble and liposoluble ingredients after breaking the cell wall is a powerful evidence to show the effectiveness of cell wall breaking process. All above figures could support the statement that cell wall breaking process could help the fully release of nutrition of raw pine pollen. Other technologies to break the pine pollen cell wall include Fermentation Wall-breaking, Colloid Grinding and so on. However High-speed Airflow Smashing could ensure cell wall breaking ratio above 99% which could greatly maximize the absorptivity of pine pollen nutrition for human.