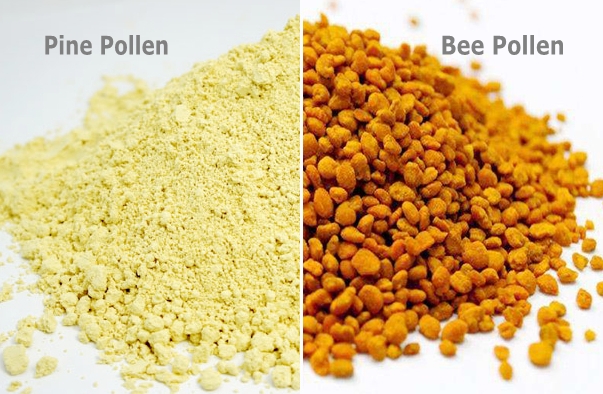 There are different pollens in the market and most of them are bee pollen source. Some people may ask what are the differences between pine pollen  and bee pollen.
Firstly, the original form/appearance is totally different. Due to bee pollen are collected by honey bees, the raw bee pollen is in granules. Bee pollen may be collected from a lot of crops and plants like rape flower (Brassica campestris), corn flowers, tea flowers, lotus flowers and so on. Honey bees can't make a distinguishment on the various types of flowers, the quality of flower pollen or whether there being pesticide residue in the pollen. Meanwhile, their own animal hormone is inevitablely being brought in during the collection. And all these impurities are hard to be removed during the production. Above factors will affect the efficacy of the pollen; and possiblely will cause allergy, obesity, reversal disorder of endocrine system and other related negative influences.
Different from above-mentioned herbaceous plants, pine tree is an old species in the earth which is said being existed in the similar era of dinosaur. Pine tree has an indomitable vitality and long life-span. Pine pollen powder as the sperm cell of pine tree, it contains the whole genetic genes of the pine tree as well as longevity genes. Herbaceous plants are just because lack of the longevity genes like pine trees, they could only grow in spring and then die in winter. And our pine pollen powder is selected in the Yunnan Province in Southwestern China–an area roughly 152,000 sq miles, with the northwestern region displaying impressive mountain ranges and river valleys–including the vast pine forests. This can keep away the alien pollens, pesticide residue and animal hormone being brought in the pine pollen powder. And the only impurities that may be mixed in the pine pollen are dust and bud/ microspore of pine trees. We adopt airflow separation technology to remove the impurities from pine pollen powder by because the specific gravity of these impurities and pine pollen are different. All these could guarantee the pine pollen powder far more pure, with a better taste and with the least negative factors.