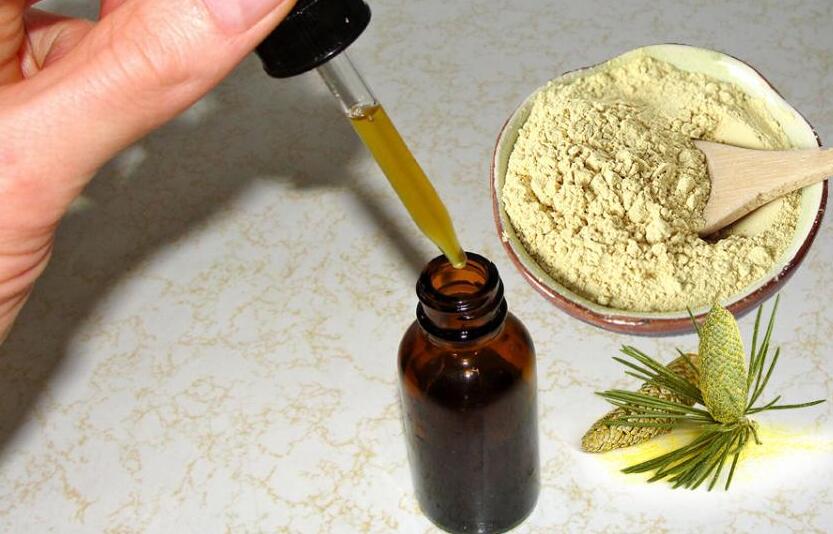 Step 1: Measure out the ratio of Alcohol and pine pollen powder- Use 60% to 70% pure (concentration) grain alcohol as the solvent. For example, if we take a total amount of 1000ml grain alcohol, then 600ml to 700ml would be pure ethanol and 300ml to 400ml would be water because the concentration of alcohol is 60% to 70% rather than 100% purity.
Step 2: Prepare yourself a glass jar and add 1/5 amount of the Pine Pollen Powder (Pine pollen powder : alcohol= 1:5) in alcohol we prepared in step 1. Then seal the jar with a lid and shake the concoction before store it in a cool and dry place away from sunlight.
Step 3:  In the following two weeks, it's suggested to shake the jar everyday to keep the pine pollen from precipitating into the bottom of the jar.
Step 4: Two weeks later, take a larger container and cover it with a clean cloth to use as a strainer/filter. Shake the pine pollen and alcohol concoction one last time then pour it through the cloth so that the liquid will ends up in the container; while the pine pollen will be collected in the cloth and you can wrap it up then squeeze out any remaining liquid.
Step 5: Prepare several cleaned tincture bottles (generally is a glass jar with a sucker lid) and subpackage the filtered liquid into these bottles. And store them in a cool, dry place and enjoy these finished pine pollen tinctures.  And the suggested dosage is like a 50 ml bottle pine pollen tincture could last about 30 days if one is taking it 3 times a day.