Sting Nettle Root Extract Powder
【Latin Name】: Urtica dioica L.
【Product Specification】: 45% beta-sitosterol UV, 10:1, 20:1, 50:1TLC
【Part Used】: Leaves&Root
【Extract Method】: Ethanol or hot water
【Appearance】: Offwhite to yellowish-brown Powder
【Odour & Taste】: Characteristic
【Mesh Size】: 95% through 80 mesh
【Main Function】: optimize sex hormones and treat Prostatitis
【Packing】: 1kg,2kg,5kg/bag (packed in an aluminum foil bag outside; double-layer PE inside); 25kg/fiber drum.
【Physicochemical index】:

Heavy Metal <10ppm(As <1ppm, Pb <2ppm, Hg <0.2ppm);
Pesticides Residues <1ppm;
Total Plate Count <1000cfu/g (Yeast & Mould <100cfu/g, Salmonella: Negative, E.Coli: Negative).
---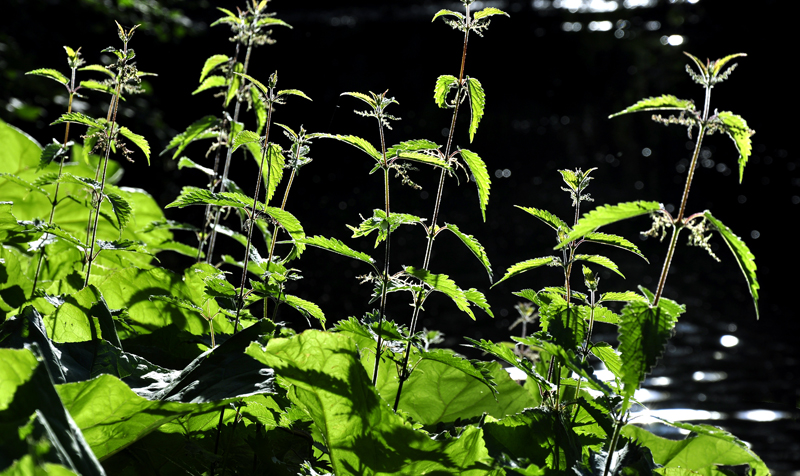 Stinging nettle (Urtica dioica and the closely related Urtica urens) has a long medicinal history. In medieval Europe, it was used as a diuretic (to rid the body of excess water) and to treat joint pain. Stinging nettle has fine hairs on the leaves and stems that contain irritating chemicals, which are released when the plant comes in contact with the skin. The hairs, or spines, of the stinging nettle are normally very painful to the touch. When they come into contact with a painful area of the body, however, they can actually decrease the original pain. Scientists think nettle does this by reducing levels of inflammatory chemicals in the body, and by interfering with the way the body transmits pain signals.
Stinging nettle has been used for hundreds of years to treat painful muscles and joints, eczema, arthritis, gout, and anemia. Today, many people use it to treat urinary problems during the early stages of an enlarged prostate (called benign prostatic hyperplasia or BPH). It is also used for urinary tract infections, hay fever (allergic rhinitis), or in compresses or creams for treating joint pain, sprains and strains, tendonitis, and insect bites.
Stinging nettle root is used widely in Europe to treat BPH. Studies in people suggest that stinging nettle, in combination with other herbs (especially saw palmetto), may be effective at relieving symptoms such as reduced urinary flow, incomplete emptying of the bladder, post urination dripping, and the constant urge to urinate. These symptoms are caused by the enlarged prostate gland pressing on the urethra (the tube that empties urine from the bladder). Some studies suggest that stinging nettle is comparable to finasteride (a medication commonly prescribed for BPH) in slowing the growth of certain prostate cells. However, unlike finasteride, the herb does not decrease prostate size. Scientists aren't sure why nettle root reduces symptoms. It may be because it contains chemicals that affect hormones (including testosterone and estrogen), or because it acts directly on prostate cells. It is important to work with a doctor to treat BPH, and to make sure you have a proper diagnosis to rule out prostate cancer.
The leaves and stems of nettle have been used historically to treat arthritis and relieve sore muscles. Studies have been small and inconclusive, but they do suggest that some people find relief from joint pain by applying nettle leaf topically to the painful area. Other studies show that taking an oral extract of stinging nettle, along with nonsteroidal anti-inflammatory drugs (NSAIDs), allowed people to reduce their NSAID dose.
One preliminary human study suggested that nettle capsules helped reduce sneezing and itching in people with hay fever. In another study, 57% of patients rated nettles as effective in relieving allergies, and 48% said that nettles were more effective than allergy medications they had used previously. Researchers think that may be due to nettle's ability to reduce the amount of histamine the body produces in response to an allergen. More studies are needed to confirm nettle's antihistamine properties. Some doctors recommend taking a freeze-dried preparation of stinging nettle well before hay fever season starts.
Sting Nettle Composition
As a herbal supplement, Stinging Nettle contains a variety of nutrients. These include:
The glycoside Beta-sitosterol, and related compounds daucosterol and campesterol
Scopoletin
Stigmasterol
Lignans such as (+)-neoolivil, isolariciresinol, and pinoresinol
Secoisolariciresinol and its main intestinal metabolites, enterofuran and 3,4-divanillyltetrahydrofuran, the latter of which appears to have great affinity for binding to SHBG
Ursolic Acid
14-octacosanol
Oleanolic Acid
A lectin localized to the roots with affinity for N-Acetylglucosamine moeities
The fatty acids of oleic, gadoleic, stearic, palmitoleic and erucic acids
Quercetin, Kaempferol, and Isorhamnetin as well as some glycosides (mostly rutinoside and Isorhamnetin-3-O-neohesperidoside)
Coumaric Acid, of which p-coumaric acid is at 5mcg/g
Chlorogenic Acid and caffeic acid (a metabolite of chlorogenic acid)
Vanillic and and structurally related compounds (homovanillyl alcohol at 8mcg/g, hydroxycinnamic acids, ferulic acid at 20mcg/g)
Some Anthocyanins, particularly Pelargonidin
Vitamin C (Ascorbic Acid) at 130mg per kg fresh plant
A serotonin, acetylcholine, and histamine content in the hairs; these may contribute to the blushing/burning sensation seen when touching fresh nettle.  The active ingredient tends to be seen as beta-sitosterol; which is the daucosterol molecule after daucosterol is separated from the glucose moiety. There is some confusion as to whether or not it actually is the active molecule, as overall amounts of beta-sitosterol tend to be less than 0.01% if not otherwise concentrated, and isolated beta-sitosterol seems to best influence prostate health (most common usage of Stinging Nettle) at dosages above 60mg.
ß-sitosterol and Its Background Information
A number of sterol compounds, chemically similar to testosterone, are found in saw palmetto berries. Such sterol compounds b-sitosterol, campesterol, and stigmasterol, are also found in Pygeum Africanum and stinging nettle. Another natural product traditionally used for prostate health is pumpkin seeds, which contain oily compounds of many kinds. All these natural products by themselves or in combinations have long been used effectively to reduce BPH. By including both the known active sterols and the herbal materials in which they are known to exist, any unknown trace materials found in the plant sources would also be included in a nutritional supplement. The extra sterols ensure that their benefits will be realized. An extensive review (Wilt TJ, MacDonald R, Ishani A. 1999, British Journal of Urology International, 83, 976-983) published in 1999 concluded that b-sitosterol by itself improves urological symptoms such as flow, even though by itself it does not significantly reduce prostate size. Therefore a full complement of components in the herbal products are necessary to obtain a more complete benefit, since not all of the nutritional mechanisms are fully understood, the active ingredients as well as the whole herbal products are should be part of a nutritional supplement.
Beta-sitosterol Benefits
Science has shown that the most powerful nutritional supplement for prostate health is a common plant alcohol called beta-sitosterol. Beta-sitosterol is found in literally all of the vegetables you eat, and is the most prominent plant sterol in nature. Actually it is comprised of several sterols including campesterol, stigmasterol, brassicasterol, and beta-sitosterol. This is the substance that is able to block DHT (dihydrotestosterone). In addition, b-Sitosterols also lower cholesterol levels which also inhibit the production of DHT. Therefore it is a very powerful DHT blocker and since it is a completely natural product, it does not have any adverse side effects. In several studies, b-Sitosterols have been proven as effective as many drugs in treating prostate problems. Since these prostate problems are also caused by DHT, it is easy to see that Beta Sitosterols can be a powerful weapon in warding off hair loss.
1) Benign Prostatic Hyperplasia
There's some evidence that beta-sitosterol may help treat benign prostatic hyperplasia (or BPH, a condition commonly referred to as "enlarged prostate"). Although BPH rarely causes symptoms in men under age 40, many older men experience BPH-related symptoms (including urination and bladder problems). BPH is not linked to increased risk for prostate cancer.
Beta-sitosterol appears to improve urological symptoms associated with BPH, according to a report published in BJU International in 1999. For the report, investigators analyzed four previously published clinical trials with a total of 519 men and a treatment period of four to 26 weeks. Although the report's authors concluded that short-term treatment with beta-sitosterol may help improve BPH symptoms, they caution that beta-sitosterol's effectiveness as a long-term BPH treatment is unknown.
2) Cancer
Preliminary research suggests that beta-sitosterol may help fight colon cancer. In a 2010 laboratory study published in BMC Complementary and Alternative Medicine, for instance, scientists found that beta-sitosterol isolated from the Asclepias curassavica plant inhibited the growth of human colon cancer cells. Some research indicates that beta-sitosterol may also fight breast cancer. For example, a 2003 laboratory study published in Oncology Reports found that beta-sitosterol induced apoptosis in breast cancer cells. Apoptosis, a type of programmed cell death, is key to halting the proliferation of cancer cells. Furthermore, a 2008 laboratory study published in Molecular Nutrition and Food Research found that using beta-sitosterol in combination with the breast cancer drug tamoxifen may enhance the drug's effectiveness.It's important to note that more research needs to be conducted before beta-sitosterol can be recommended for the treatment or prevention of any form of cancer.
Researches on Beta Sitosterols
In his book, The Natural Prostate Cure , Roger Mason describes the significance of b-sitosterol. "Beta-sitosterol is the most important phytosterol in our diet, and is found in literally all our vegetables. It is the most important supplement you can use for good prostate health. It has many other benefits, and can be used by both men and women. It is estimated that Americans generally eat about 300 mg a day of beta-sitosterol and vegetarians eat at least twice that much."
Roger Mason recommends that supplements should provide at least 300 mg of b-sitosterol each day to obtain the desired benefits. He references the following research to substantiate the effective of this natural substance. "There are dozens of classic double-blind studies, done with actual men, on the effects of beta-sitosterol on benign prostate hypertrophy or BPH (enlarged prostate). We'll discuss a few of these to give you some examples of the first-rate research that has been done around the world."
"At the Institute of Clinical Medicine at the University of Rome, DiSilverio and his colleagues studied 35 men with BPH for 3 months, and gave half of them a placebo (inert capsules). They concluded, "On the basis of these considerations, monotherapy with S. repens extract (beta-sitosterol extracted from saw palmetto) may be more favorably accepted, on account of similar clinical results, when compared to the combination therapy cyproterone acetate plus tamoxifen."
"At the University of Bochum in Herne, Germany, Dr. Berges and his associates used pure beta-sitosterol with 200 men over the course of a year, half of whom received a placebo. They said, "significant improvement in symptoms and urinary flow parameters show the effectiveness of beta-sitosterol in the treatment of BPH." This is clearly one of the most important and well done studies on prostate ever published".
"At eight different urological clinics in Europe, a collective study over a two month period, was done of 263 total patients with BPH. They were given either Tadenan (a Pygeum africanum extract standardized for beta-sitosterol content) or a placebo. This very extensive study was coordinated among different clinics and different doctors who all agreed, "treatment with the Pygeum africanum extract led to a marked clinical improvement; a comparison of the quantitative parameters showed a significant difference between the Pygeum africanum group and the placebo group, with respect to therapeutic response."
"Dr. Berges and his associates at Ruhr University in Germany published another study on beta-sitosterol in 2000. This time they wanted to do a very long term study to prove beyond any doubt the lasting effects of beta-sitosterol therapy on prostate enlargement for an eighteen month period. This was, of course, a classic double blind study and they measured many basic indexes to show in detail how the men fared. The untreated men got worse with time, while the men given beta-sitosterol improved in all measured ways. They concluded, "The beneficial effects of beta-sitosterol treatment…were maintained for 18 months." This leaves no doubt as to the long term effectiveness."
"A unique review of studies, over a 31-year period, used 18 different international trials involving 2,939 men with BPH. They were treated with strong extracts of saw palmetto, standardized for beta-sitosterol content. After reviewing all these studies, the researchers announced, "The evidence suggests that Serenoa repens (saw palmetto) extract improves urologic symptoms and flow measures."
"At the Veterans Administration in Minneapolis doctors did a very thorough review of the research on beta-sitosterol going back over 30 years and included 32 references. They concluded that beta-sitosterol had, "the greatest efficacy amongst phytotherapeutica substances". They also concluded that, "Beta-sitosterol improves urological symptoms and flow measures." A review like this is very impressive, as it uses many studies condensed into one comprehensive presentation."
Roger Mason also lists other benefits of beta-sitosterol.
"A notable benefit of this supplement is the promotion of healthy cholesterol and triglyceride levels. Over thirty years ago, studies showed a positive effect, with no change in diet or exercise. Since then, over 50 articles have been published in international medical journals. To reap the benefits described, you need to take about 300mg a day of mixed beta-sitosterols. If you lower your fat intake, and actively exercise, the results can be much more dramatic. Common sense tells you to cut down or cut out saturated animal fat, dairy, and, especially, unnatural hydrogenated fats, which are found in so many of our processed foods. Surprisingly, the intake of vegetable oils does not raise cholesterol or triglyceride levels, but excess vegetable oils can contribute to prostate disease and other illnesses. Please read my book Lower Cholesterol Without Drugs."
" Powerful anti-inflammatory properties of this wondrous substance have been demonstrated. At the University ofStellenbosch, doctors are working with people with rheumatism to see if beta-sitosterol will help them. This is certainly more fruitful than dangerous synthetic chemicals that are touted as arthritis and rheumatism 'breakthroughs' every year, but never deliver what is promised. At KingGeorgeMedicalCollege in India, arthritic rats were given beta-sitosterol with good results and total safety. At the University of Napoli in Italy, arthritic rats improved significantly when given beta-sitosterol. Several relevant U.S. and European patents have been granted for this purpose."
"Doctors at the State University of New York have been studying the effects of beta-sitosterol on human prostate and human colon cancer cells in test tubes. They have found it to be a potent killer of cancer cells, but so far only in test tubes. This is very promising research in finding effective natural supplements that have anti-cancer properties. At the famous Sloan Kettering Cancer Institute, doctors found beta-sitosterol to slow the growth of colonic adenomas (tumors) when fed to rats. At the University of Frauenklin in Germany, men with prostate adenomas were given beta-sitosterol, which slowed tumor growth by decreasing their prostaglandin content. At the National Institute of Health in Maryland, scientists studied the chemopreventive properties of beta-sitosterol. This means that it helps prevent cancer when known carcinogens (cancer-causing chemicals) are given to laboratory animals. The same chemopreventive results were found with rats, atWayne State University."