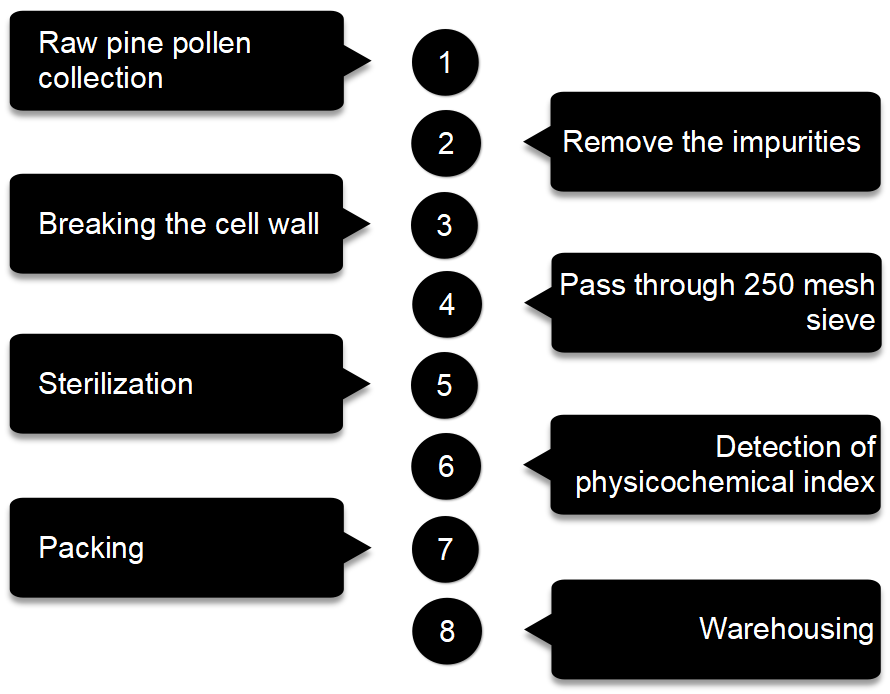 1. Raw pine pollen Collection: Farmers pick up the Ripe Pine Pollen Catkins from the pine trees by hand.
2. Remove the impurities(sand,dust or spore bud) by Airflow Separation technology by using the theory of goods with different weights will fall down at different distance.
3. Breaking the cell wall by Airflow Cell Wall Cracking Machine/Vibrating Cell Wall Cracking Machine
Airflow cell wall cracking machine consists of air supply unit, feeding unit, grinding unit, powder grading unit and powder collecting unit. When the raw pine pollen is fed from the feeding mouth and mixed with the fresh compressed air from the air supply unit, the supersonic airflow generated by the ejector will makes the raw pine pollen granules/particles crash with each other and the cell wall will be damaged during this process. After the pine pollen granules/particles having reached the required fineness, they will be released by the grading unit on the top of the machine and are collected and packed by the powder collecting unit at the bottom of the machine.
Vibrating Cell Wall Cracking Machine: The raw pine pollen is fed into the crushing chamber through a hopper and crushed through crashing and grinding with grinding bar inside the chamber under the effect of vibration. And the machine is equipped with water cooling unit to control the temperature inside the crushing chamber. In addition, the machine is operated under full close conditions without dust flying and environmental pollution.
4. Pass through 250 mesh sieve to ensure the particle size of final pine pollen to be 95% pass 250 mesh sieve.
5. Sterilization by Microwave sterilization/ High Temperature & High Pressure in short time (5-10 seconds)
Microwave sterilization machine could avoid high temperature inactive the ingredients in pine pollen powder, since some active ingredients in pine pollen powder may loose their bioactivity at above 40 degree celsius. Compared with microwave sterilization, High Temperature & High Pressure in short time (5-10 seconds) could avoid microwave contact but it may cause some loss on nutrients.
6. Detection of physicochemical index
Conduct the in-house test on the heavy metals content and total plate count to ensure the final product is confront with data stipulated in Pharmacopoeia.
7. Packing&Warehousing
Pack the products in double food-grade plastic bags inside and fiber-drum outside in 25kg per drum and store the packed pine pollen in cool&dry warehouse where is away from direct sunlight and heat.