Sea Buckthorn Extract Powder
【Specification】: 10:1, 20:1 TLC
【Plant Part Used】: Fruit
【Extract Solubility】: Soluble in water
【Appearance】: Light yellow to light brownish fine powder
【Particle size】: 100% pass 80 meshes
【Packing】: 1kg,2kg,5kg/bag (packed in an aluminum foil bag outside; double-layer PE inside); 25kg/fiber drum.
【Physicochemical index】:

Heavy Metal <10ppm(As <1ppm, Pb <2ppm, Hg <0.2ppm);
Pesticides Residues <1ppm;
Total Plate Count <1000cfu/g (Yeast & Mould <100cfu/g, Salmonella: Negative, E.Coli: Negative).
---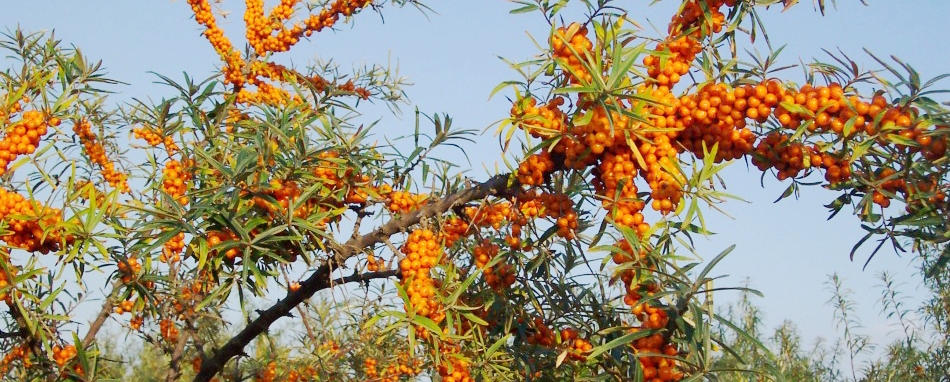 Sea buckthorn (Hippophae Rhamnoides Linn.) has a large distribution in the mountainous regions of China and Russia and is an important natural resource with rich nutrients. Sea buckthorn plant mostly grows in sandy soil at an altitude of 1,200-4,500 meters (4,000-14,000 feet) in cold climates and there are some cultivation at lower altitudes and into temperate zones. It has been widely cultivated across much of the northern China and many other countries in recent years for the reason of preventing soil erosion as well as its economic value. Sea buckthron fruits are considered to be a superfood due to their rich nutrients incuding minerals, vitamins, antioxidants, organic acids, flavones, phenolics, amino acids, carotenoids and other trace elements. This makes the sea buchthorn fruits popular in treating a lot of health problems and illnesses.
Chemical Composition of Sea Buckthorn
Vitamins and Minerals
Vitamin A – helps to maintain healthy teeth and bones (found in the berries)
B12 – helps with energy production and forming red blood cells (berries)
C – promotes wound healing, healthy teeth and gums (berries)
E – helps to form red blood cells (berries)
K – crucial for blood clotting to stop bleeding (berries)
Lycopene – an antioxidant chemical that protects DNA and proteins
Potassium – needed for fluid balance and muscle function
Calcium -promotes healthy bones, teeth, and keeps blood pressure constant
Magnesium – needed for making protein, immune system health
Iron – needed to carry oxygen around the body
Phosphorus – maintains body pH
Flavonoids
Hippophaeosides (1-3) -(found in the leaves)
Hippophins (found in the seeds)
Catechin (leaves)
Epicatechin (leaves)
Gallocatechin( leaves)
Epigallocatechin (leaves)
Fatty Acids
Palmitic (found in the fruits)
Oleitic (berries)
Linoleic (berries)
Constituents of Sea Buckthorn Fruit (per 100 grams fresh berries)
Vitamin C
200-1,500 mg (typical amount: 600 mg)
Vitamin E (mixed tocopherols)
Up to 180 mg (equal to about 270 IU)
Folic acid
Up to 80 mcg
Carotenoids, including beta carotene, lycopene, zeaxanthine; these contribute the yellow-orange-red colors of the fruit
30-40 mg
Fatty acids (oils); the main unsaturated fatty acids are oleic acid (omega-9), palmitoleic acid (omega-7), palmitic acid and linoleic acid (omega-6), and linolenic acid (omega-3); there are also saturated oils and sterols (mainly β-sitosterol)
6-11% (3-5% in fruit pulp, 8-18% in seed); fatty acid composition and total oil content vary with subspecies
Organic acids other than ascorbic (e.g., quinic acid, malic acid; ingredients similar to those found in cranberries)
Quantity not determined; expressed juice has pH of 2.7-3.3
Flavonoids (e.g., mainly isorhamnetin, quercetin glycosides, and kaempferol; these are the same flavonoids as found in Ginkgo biloba.
100-1,000 mg (0.1% to 1.0%)
Sea Buckthorn Health Benefits
Sea buckthorn fruits contain more than 100 different nutrients and phytochemicals—vitamins, fatty acids, free amino acids, flavonols, and carotenoids. They are rich in carotene and vitamins C and E. Vitamin C concentration varies from 360 mg of vitamin C per 100 g of berries for the European subspecies H. rhamnoides to 2,500 mg of the vitamin per 100 g for the Chinese subspecies H. sinensis. (Compare this to fresh orange juice with 35 to 56 mg of vitamin C per 100 ml.) Carotene content ranges from 30 to 40 mg per 100 g of berries, and vitamin E concentration can be up to 160 mg per 100 g. Berries are also high in the trace mineral chromium, which works with insulin to help the body use sugar, and may also help to reduce high blood pressure. A Finnish study reported in the Journal of Agricultural and Food Chemistry compared flavonol content in twenty-five edible berries. Sea buckthorn was among twelve berries rated as "high" (defined as greater than 50 mg per kg flavonol). It was especially rich in quercetin, with concentrations exceeding those of other popular berries such as blueberries, bilberries, strawberries, red raspberries, and currants. Flavonols may serve as antioxidants and anticarcinogens, and may lessen the risk of coronary heart disease, stroke, and lung cancer.
Cancer therapy
Most of the work done in this area has been with laboratory animals. A group in India headed by HC Goel (at the Department of Radiation Biology, Institute of Nuclear Medicine and Allied Sciences, in Delhi) has published several reports on the potential of a hippophae extract (an alcohol extract, which would mainly contain the flavonoids) to protect the bone marrow from damage due to radiation; his group also showed that the extract may help faster recovery of bone marrow cells. In China, a study was done to demonstrate faster recovery of the hemopoietic system after high dose chemotherapy (with 5-FU) in mice fed the sea buckthorn oil. The seed oil has been found to enhance non-specific immunity and to provide anti-tumor effects in preliminary laboratory studies.
Cardiovascular diseases
In a double-blind clinical trial conducted in China, 128 patients with ischemic heart disease were given total flavonoids of sea buckthorn at 10 mg each time, three times daily, for 6 weeks. The patients had a decrease in cholesterol level and improved cardiac function; also they had less angina than those receiving the control drug. No harmful effect of sea buckthorn flavonoids was noted in renal functions or hepatic functions. The mechanism of action may include reduced stress of cardiac muscle tissue by regulation of inflammatory mediators. In a laboratory animal study, the flavonoids of sea buckthorn were shown to reduce the production of pathogenic thromboses. Some simple formulas based on sea buckthorn have been developed recently for treating cardiac disorders. For example, there is a liquid preparation of sea buckthorn flavonoids with carthamus (safflower) and licorice, called Ai Xin Bao (from the Shanxi Ai Xin Biological Technology Development Center), which is intended for use in treatment of coronary heart disease and sequelae of heart attack and stroke, through improving blood circulation and restoring cardiac function.
Gastric ulcers
Hippophae is traditionally used in the treatment of gastric ulcers, and laboratory studies confirm the efficacy of the seed oil for this application. Its functions may be to normalize output of gastric acid and reduce inflammation by controlling pro-inflammatory mediators.
Liver cirrhosis
A clinical trial demonstrated that sea buckthorn extracts helped normalize liver enzymes, serum bile acids, and immune system markers involved in liver inflammation and degeneration. In addition, sea buckthorn oil protects the liver from damaging effects of toxic chemicals, as revealed in laboratory studies.
Oxidative Stress
In mice, a sea buckthorn leaf extract protected them against chromium-induced oxidative stress. Alcoholic extracts from sea buckthorn leaves and fruits protected mouse cells against oxidative stress caused by a chemical called sodium nitroprusside. Chemicals in the extract slowed down free radical production, which in turn eliminated the stress.
Inflammation
In rats, an injected dose of sea buckthorn extracts largely reduced the amount of swelling caused by an injection of M. tuberculosis. Sea buckthorn extract has possible uses against arthritis inflammation. The chemical called parallel methanol from the leaves lowered inflammatory cytokine (TNF-α, IL-6, and IFN-γ) levels, and decreased inflammation in mice cells. During inflammation, inflammatory cells release excessive amounts of nitric oxide, which furthers the severity and progression of inflammatory diseases of the skin, heart, and mouth. In mice cells, sea buckthorn extract reduced nitric oxide production and inflammatory activity.
Against Radiation
RH-3, a constituent of sea buckthorn extract, protected rats against whole body radiation. The extract leads to an 82% survival rate compared to a 0% survival rate in the control group. In mice cells, sea buckthorn extracts protected against genetic deformations caused by radiation. In another study, sea buckthorn extract protects DNA by promoting DNA strand linking, acting as an antioxidant, and preventing DNA link breakage.
Diabetes
Sea buckthorn seed extracts lowered high blood pressure caused by a high-sugar diet in mice. It has a possible use for fighting against high blood pressure in diabetics. In mice, sea buckthorn extract lowered sugar and fat levels in the blood, which are common diabetes symptoms.

Reference: https://selfhacked.com/blog/sea-buckthorn-benefits/#Sea_Buckthorn_Health_Benefits
http://www.itmonline.org/arts/seabuckthorn.htm